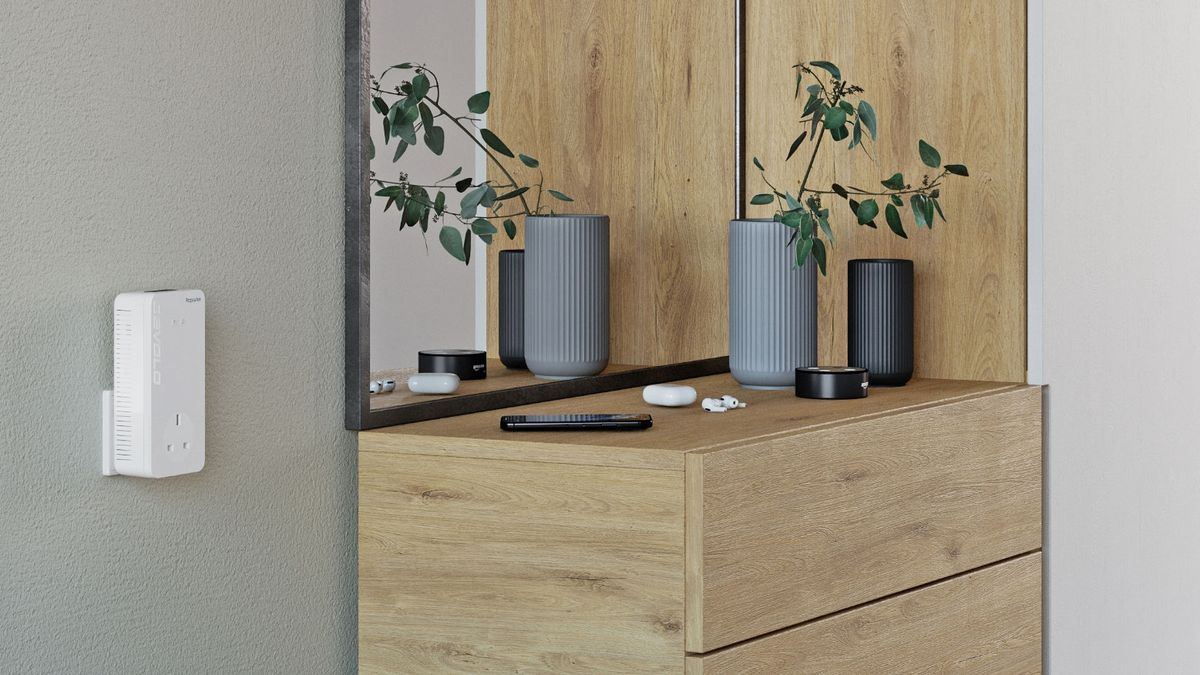 Is there anything more annoying than weak Wi-Fi? It always seems to strike at the worst possible time: when you're trying to have a video chat with friends or family, when you're getting to the good bit of the movie you're streaming, when you're in an important work Zoom call or when you're right in the middle of your favourite game.
It's a particular problem now because we're spending so much more of our time online. The good news is that there's a cure for weak Wi-Fi: the new WiFi ac Repeater+ from devolo. It delivers a strong signal to the places your router's been struggling to reach.
The cure for weak Wi-Fi
The reason for weak Wi-Fi is simple enough: the further you get from your router, the weaker your signal becomes – and the more obstacles are likely to be between your router and the device you're trying to connect. 
By adding a devolo WiFi ac Repeater+ to your network it solves that problem: the router can stay where it is while the Repeater+ can go where it's needed. 
That means ultra-speedy 1,200Mbps Wi-Fi in neighbouring rooms for your games consoles, laptops, tablets and Smart TV, and if you want you can also connect consoles, computers or streaming boxes directly to it via its two Ethernet ports.
Ideal for any home
There's some seriously smart technology inside the WiFi ac Repeater+. It uses "Beamforming" technology to work out where your devices are, focusing the Wi-Fi signal and sending it directly to the devices that need it. 
It supports "cross-band repeating", and because it's a "dual-band" repeater it delivers strong signals on both the 2.4GHz and 5GHz frequency bands.
The devolo WiFi ac Repeater+ is built for the real world, where you'll often have multiple devices demanding bandwidth at the same time. The solution? MU-MIMO technology. It stands for Multi-User Multiple-Input Multiple-Output and uses multiple antennas to deliver fast Wi-Fi to multiple devices simultaneously.
Make a mesh Wi-Fi in your home
One of the Repeater's smartest features is its use of mesh networking technology, which enables you to add it to your existing Wi-Fi network. When you do that, Fast Roaming technology ensures that your phone, tablet or other Wi-Fi device always connects to the strongest hotspot for the fastest possible connection.
And another problem has been solved by devolo: old kit. If you connect older Wi-Fi devices to a fast network they can slow it down, but not when they're connecting to the WiFi ac Repeater+. 
A feature called "Airtime Fairness" prioritises faster Wi-Fi clients, and that means older, slower kit doesn't drag your connection speeds down dramatically. And last but not least there's also Intelligent "Bandsteering", which analyses each device's network usage to assign them the best frequency band for what they're doing.
Easy does it
The devolo WiFi ac Repeater+ is really clever, but it's spectacularly simple to install. Simply plug it into a wall socket – it's got its own integrated plug so you're not even losing a plug point – and push the WPS button to connect it to your router. 
It automatically establishes a connection, gets the configuration data and hooks itself into your existing network without any fuss. Its Home Network app can then tell you if you've picked the perfect spot to boost your Wi-Fi signal or if you should move it a little closer to the router.
And that's it: no more weak Wi-Fi, so you can lose the lag and say bye-bye to buffering.
We've got one more bit of good news. The devolo WiFi ac Repeater+ is just £59.99, and there's a three year warranty for extra peace of mind.
Find out more about how the devolo WiFi ac Repeater+ can make your Wi-Fi wonderful, or order yours today on Amazon. It's time to wave goodbye to weak Wi-Fi.